October and February mark the annual celebration of African descendants' achievements and is a time for recognizing their central role in our Global History. At H.E.L Group, we are committed to taking meaningful actions to ensure diverse communities are represented, welcome, and supported at work.
Inspiring conversation in Black History Month

Henrietta Lacks and the HeLa cell line

Using social media for good

We are all one community

Inspire the future
Inspiring conversation in Black History Month
At H.E.L, we have embraced the importance of diversity, inclusiveness, and equity. Out of that mission, the Springboard Group was established to promote the representation and participation of different groups of individuals, delivering kick-starter events to educate and inspire conversations.


During UK Black History Month, we carried out several awareness events to spotlight key people and achievements in the scientific community; Black history is being made every day, in all kinds of ways.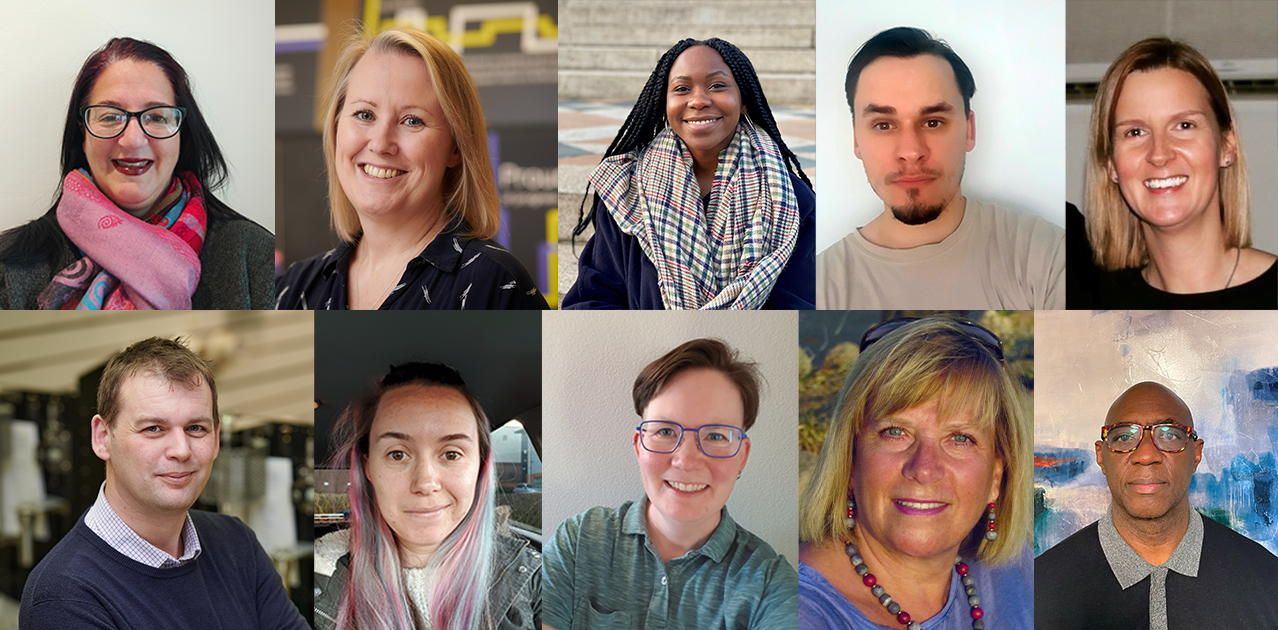 Collage image of the ten springboard volunteer members.
(Top row, left to right; Mireille Epstein, Louise Madden, Aliko Chanda, Mike Reid, and Jada Whitmore.
Bottom row, left to right: Tony Heywood, Emily Smith, Sarennah Longworth-Cook, Susan Martin, and Keith Murray).
Henrietta Lacks and the HeLa cell line
Black History Month at H.E.L. commenced with a company discussion acknowledging Henrietta Lacks. An African American woman whose cancer cells are the source of the HeLa cell line, the cells are used to test the effects of various toxins or drugs without experimenting on humans. These cells were vital in biological research and have led to crucial discoveries in medicine. However, as we dig further into her story, we see the racial inequalities in U.S. healthcare and research. She was treated at one of the few hospitals that gave medical care to black people. Henrietta Lacks sadly passed from cervical cancer in October 1951, and her cells were passed on to researchers for decades without her or her family's consent.
Over the years, the wrongs committed to Lacks and her family have since been rectified. She is a pioneer in her own right; however, many do not know her importance in modern-day medical science. Henrietta Lacks' story was an excellent opportunity to open a discussion of key figures, past and present, whose efforts have changed the lives of many.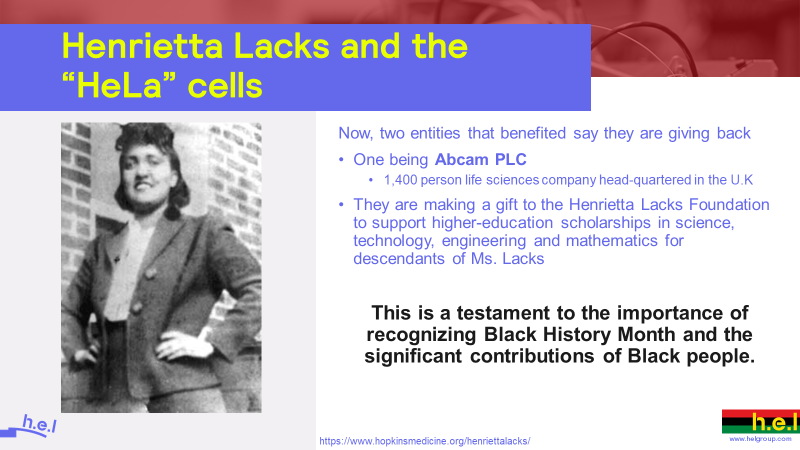 "Is Black History Month still relevant?": Screengrab taken from a presentation given on company all-hands during UK Black History Month 2021.
Using social media for good
For October 2021, we posted weekly stories of people of African heritage on our social media and sent internal emails to keep our work colleagues engaged in the discussions. One great example is the story of an inspiring researcher, Dr. Kizzmekia S. Corbett, whose passion for the sciences started in high school led to her successful career. Firstly, she became a biological trainer at the National Institute of Health before enrolling in her Ph.D. program to develop vaccine antigens for SARS and MERS. Her career in immunology led Dr. Cobbett to be at the forefront of developing the vaccine protecting us from COVID-19. Though a renowned immunologist and a significant force in her field, she also uses her platform to advocate for STEM education and vaccine awareness in the community.
A selection of the key stories we shared during UK Black History Month
We are all one community
Colleagues within this community led the celebration of Black History Month. However, it was amazing to see colleagues from various backgrounds contributing to these activities.


Our colleague Susan highlighted the life of Betty Campbell, a black woman from a small Welsh town whose dream was to become a teacher. After completing her teacher training in Cardiff, Betty Campbell returned to her hometown to do what she loved. Campbell taught for 28 years at Mount Stuart Primary, even becoming the school's first black headteacher. However, during her time here, she faced prejudice from many parents, but she did not let this get in the way of her dream. After a trip to the U.S. and learning about anti-slavery activities and the civil rights movement, Campbell put black culture into her curriculum. She taught children about slavery, the importance of black history, and the apartheid system in South Africa. She became well known outside of Wales due to her determination to increase multicultural education for children and the community.

Betty Campbell had many accomplishments throughout her career and advocated for the people in her community. She was awarded an M.B.E in 2003 for her services to education and community life. Her statue was unveiled in September 2021, a reminder of her excellence and determination to enrich people's lives in her community.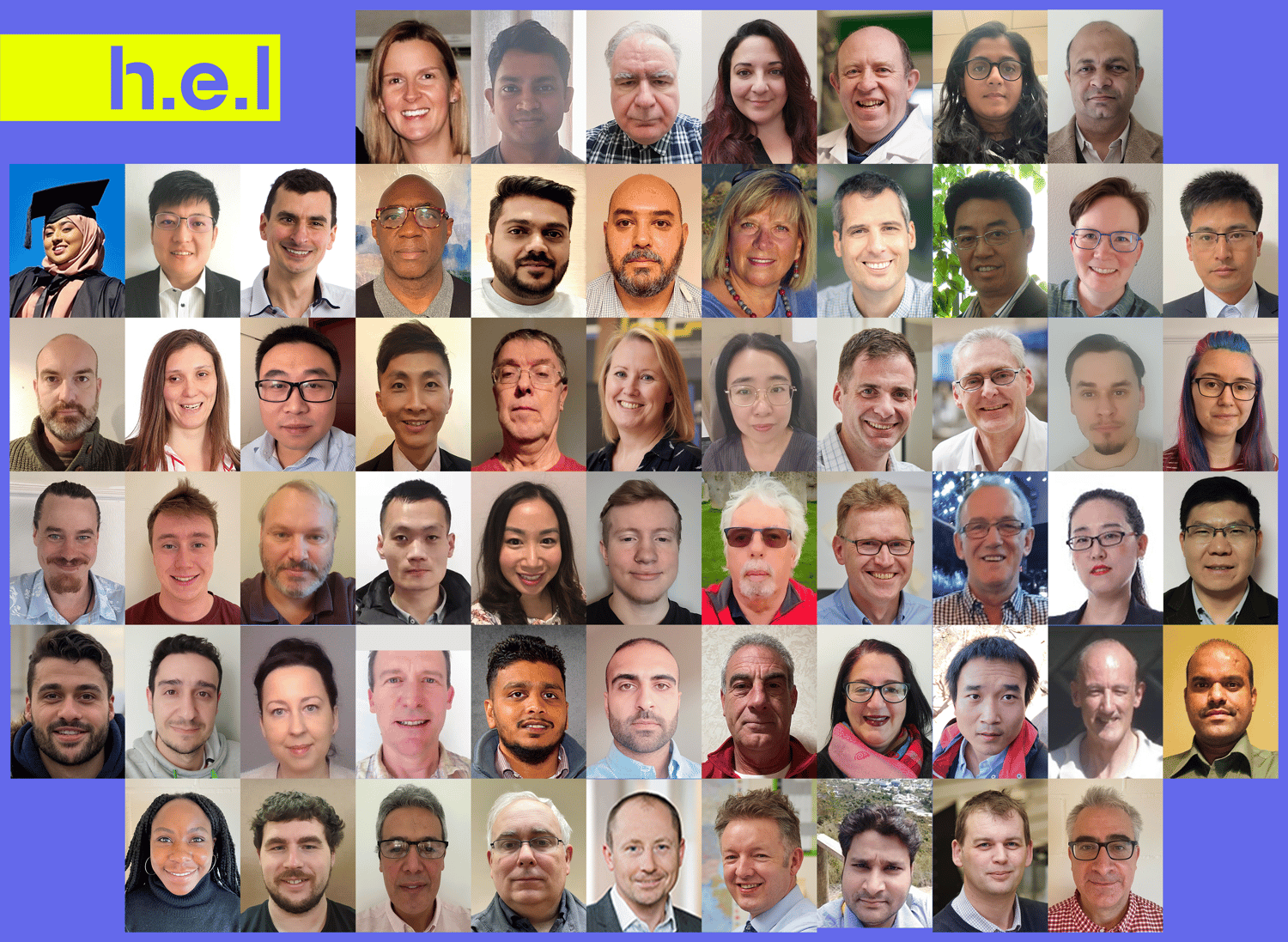 A collage of our H.E.L employee community
Inspire the future
Traditionally, Black History Month has rightly celebrated key figures and events in Black history. However, it is vital to go beyond recognizing the past and inspire the future.
Our hope is for our activities and blogs to encourage the continued importance of highlighting African descendants' contributions, past and present, have made. Contributions that will continue to make a difference for many years to come. We clearly can understand how diversity and inclusiveness have increased the overall good in our society. At H.E.L Group, we are committed to taking meaningful actions to ensure diverse communities are represented, welcome, and supported at work.
In line with the celebration of Black History Month in the U.K., we joined the 10,000 black interns scheme. This scheme encourages the diversification of workforces by providing paid internships to recent black graduates. We take pride in participating in this scheme alongside many household names and far larger organizations. We were overwhelmed by the quality of the applications received and are looking forward to our two interns' contributions to our marketing and finance teams in the coming months. It is not all about the business benefit, though: the experience offered by the internships really does have the potential to change black lives.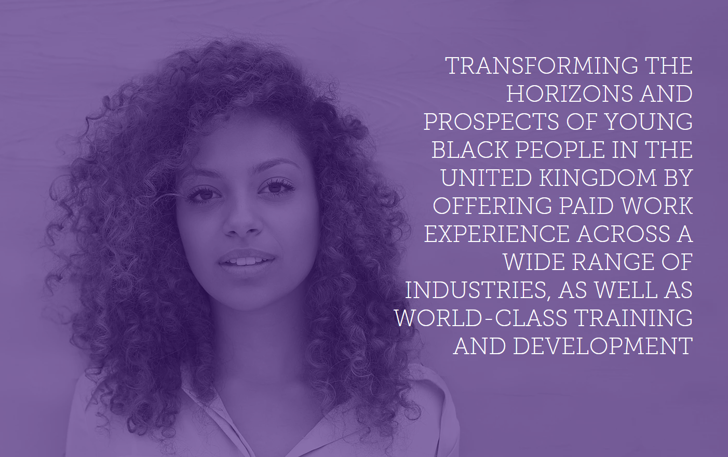 Image and quote from 10,000 Black Interns, https://www.10000blackinterns.com/