The move to labCONSOL® V1.1 is just the beginning of an exciting period of development for the software. Here's your first run-through of four upcoming updates planned for release across the next 18 months. Each one tightens the integration of labCONSOL's heightened user experience with WinISO's proven software engineering and introduces additional features for improved laboratory efficiency and productivity.
Improving functionality and ensuring stable and robust software is critical to us, as it helps unleash your full potential. So, do bear with us if our release dates given here move back a little.
V1.1: Make way for improved parallel functionality
V1.2: Smoothing out calibration requirements
V1.3: Adopting user requests as standard
V1.4: A streamlined user experience
Make way for improved parallel functionality
Version number: V1.1
Release Date: 25th May 2021
Understanding that many of our end-users need to work with parallel functionality, most of HEL's chemical synthesis equipment operates with multiple reactors. That is why we have boosted the flexibility of labCONSOL and it now has a Multi-System control that allows users to select the system they want to operate and then set the appropriate action with the same Plan Action Buttons. You'll find the Multi-System control just above the Plan Action buttons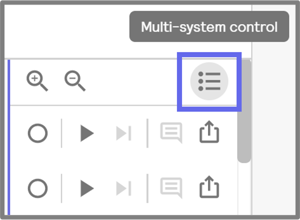 We've also removed the Skip Step button from the Multi-System control as a safety precaution. Reactors can be at different steps in their plans, so skipping multiple reactors to the same step might not be a suitable course of action.
Another key feature of the update is that the software will now automatically name data table entries. This makes locating data files quick and easy and seamlessly integrated with the Multi-System control.

Smoothing out calibration requirements
Version number: V1.2
Estimated Release Date: 2021 (TBA)
It's the joined-up thinking of V1.2 that makes it so exciting. The update's main focus is to improve and streamline user ability to modify and calibrate any system. Currently, the tools to do this sit within our separate calibration software, WinISO, and some of our systems, such as the BioXplorer, require recalibrations before every test, impacting productivity. Swapping between different software platforms isn't ideal, having all of the tools you need in one place will make your life, as an end-user, a lot easier.
As well as integrating calibration tools within labCONSOL, V1.2 will make these new and improved calibration tools easier to work with and help guide both new and experienced users through the entire calibration process.
In developing this update we've also been mindful to inbuild the ability to modify multiple calibration parameters simultaneously and as painlessly as possible. We're well aware that there's nothing more annoying than having to copy and paste a series of numbers! Below is a sneak peek at what this might look like to users: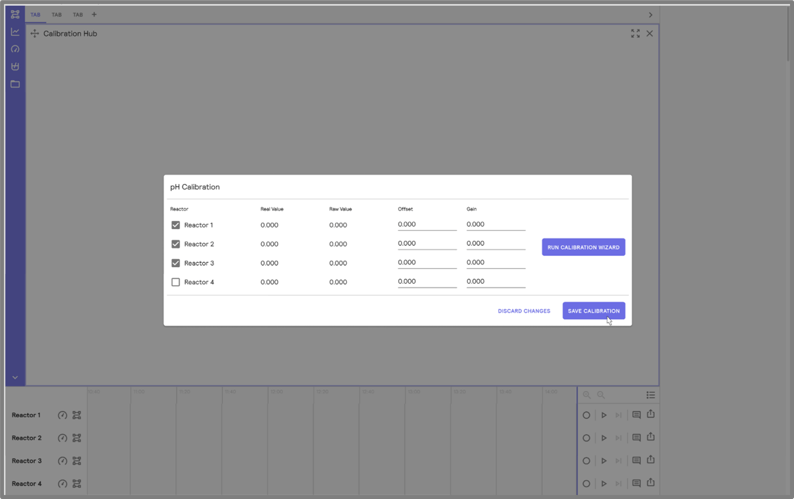 (Design not yet finalized – Work in progress – Not representative of final product)
Another goal for V1.2 is to better support our process safety and battery testing end users. We're doing this by building into the update the ability to suspend a plan's current termination conditions. Being able to stop them temporarily will give our process safety and battery testing equipment users the flexibility to adjust their tests without needing to finish a current experiment and to start another. Here's an outline of how this might look: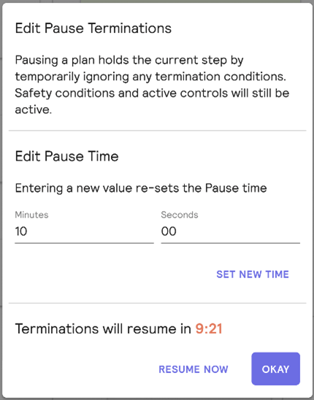 (Design not yet finalized – Work in progress – Not representative of final product)
Adopting user requests as standard
Version number: V1.3
Estimated Release Date: 2022 (TBA)
Many of labCONSOL's innovations have come about because we listen to customer feedback and take their comments on board. V1.3 is a perfect example of this. The update will feature an interactive, intuitive, and easy-to-read mimic screen to quickly identify to end-users critical system parameters adjacent to its relevant device.
The mimic screen will be unique to each system and be customized in line with its functionality.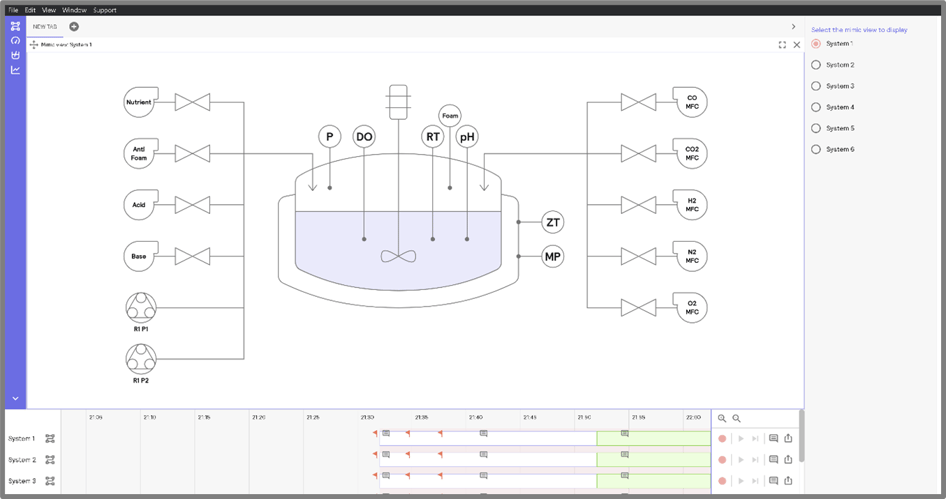 (Design not yet finalized – Work in progress – Not representative of final product)
Additional custom calibration tools will also be released to continue to increase labCONSOL's functionality. Each new tool will be designed to allow end-users to enjoy an intuitive interface with the system.
A streamlined user experience
Version number: V1.4
Estimated Release Date: 2022 (TBA)
With the key functionality of WinISO now present within labCONSOL, the main body of work for V1.4 will be to ensure customers have all the functionality they need at their fingertips. When this is embedded, development work will begin on V2.0 to continue to expand current functionality and include useful and impactful upgrades. We'll release more details about V2.0 nearer the time but until then our development team will be assessing the feasibility of each improvement as it happens and as users, we'd love you to be a part of this.
labCONSOL has been designed with you in mind and combines rapid data capture modes, an advanced real-time data display engine, with automated experiment completion and failure states monitoring across single or multiple parallel reaction systems. Let us know what is important to enable you to easily and accurately track your experiment and focus on the most critical aspects to ultimately avoid unnecessary, costly, and time-consuming repeated lab work.
Please leave your comments below
We hope you are now as excited as we are to see these system releases come online!
And remember, any customer using labCONSOL, covered by an active product warranty or service contract, will be eligible for labCONSOL version updates.